Pillow Pad Multi Angle Cushioned Tablet
A plush way to hold your tablet – it's the Pillow Pad! Ideal for any viewing situation, including video calls, movie marathons, app adventures and reading sessions. It'll be all the more comfortable with a soft stand.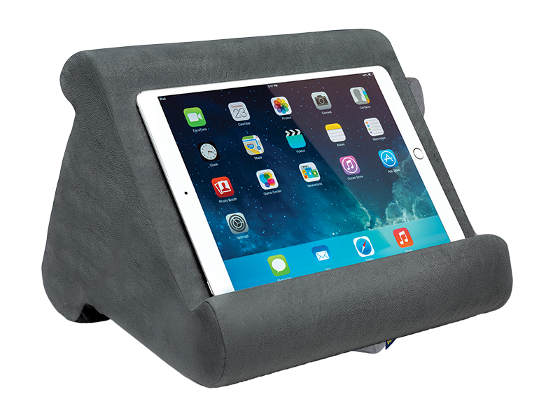 The Pillow Pad is the perfect addition to any iPad or tablet, acting as a soft cushioned stand for any large screen device. Each side of the Pillow Pad has a different slanting edge, so just flip it to get the right position. It's well suited to tablets, e-readers, books and more, so enjoy your favourite reads, follow along with a recipe, catch up on your TV show or connect with loved ones comfortably and at the perfect viewing angle. The Pillow Pad comes in a durable light grey plush fabric and has a handy storage pouch to house chargers and earphones. It's the comfy way to be entertained and stay connected.
FEATURES:
Easy-to-use plush soft stand, with three angled sides for the ideal position
Hands-free use, comfortable to handle and easy to rest on any surface on simply your lap!
Soft, sturdy, durable and lightweight light fabric design
Suitable to hold tablets, iPads, e-readers, phones, books and more!
Organise cords, chargers and earphones with the functional side pocket
SPECIFICATIONS: